Orchids Diseases - Orchid Care
The real trick with orchid care is to gain some experience and education and to be preventive with respect to problems. It really doesn't take much time or knowledge to keep them healthy.
Frequently people write me and ask me to recommend resources or sources of information to learn about orchids. Currently the one I am recommending first is Orchid Care Expert: A Practical Guide by Nigel Howell. It is an excellent e-book.
I own about 20 hard orchid books and over 5 orchid e-books. I like different books for different reasons. But this is the one I would suggest to start with right now whether you are a new orchid grower or have some experience.
If you are interested in checking out Nigel's ebook further click on the "Click here" link below and it will take you to where you can learn more about it.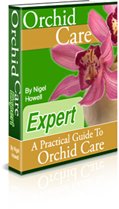 Click Here to Check out Orchid Expert
OK LET'S LOOK AT ORCHID DISEASES!
Like any other plant there diseases that may harm your orchids. It doesn't happen often but it's good to be aware of it early. Attention and quick action if there is a problem is key to their survival.
Let me suggest to you that you check your orchids weekly for any signs of disease or trouble. The earlier you can spot a problem the easier it will be to manage the problem.
I have decided to make it easier for you to determine the orchid diseases that your may have. I have looked at it by the affect on orchid flowers, leaves, or root. It is easier to spot the disease this way.
Just click on the link and off you go the appropriate article.
Orchid Plant Disease Affecting the Leaves

Return to the Top of the Orchid Disease - Orchid Care Page
Return to the Orchids Plus More Home Page


Home | Customer Service & Contact Information | Site Map | Security & Privacy