-

Orchidaceae Newsletter September 2005
Volume 2 #9
Content
1. We've Added 3 Whole New Sections
2. Our September Orchid Specials
3. Tip of the Month - Orchid Care - Part 4

--------------------------------------------

If this newsletter has been passed on to you from a friend, I hope that you enjoy it. If you do, I'd appreciate it if you would subscribe
I promise that your email address will only be used to send the newsletter to you.
We do not sell or rent any addresses or information about you.
-------------------------------------------
Linda and I hope that you had a wonderful summer. We enjoyed the warm weather in the NE. Our daughter is now off to college as a freshman. Wow, what a big house now.
New Addtitions For You
I am so excited about the new sections that we've added for you. I have had a number of visitors and customers ask if we have traditional flowers or floral bouquets or gift baskets. We've had to say no - that is - up until today.
We have been looking around for a number of months to add to orchids-plus-more site. Just what to add was not much in question but who could we partner with.
Our criteria had to be #1, customer service. It is of utmost importance to us that our visitors and therefore our customers need to be treated very well. If you had questions we need to get them answered within a reasonable time. If there are concerns than we need to get to them resolved.
Our second criteria needed to be healthy and large selection at reasonable prices. Well I feel we have done that for you.
Embossed Roses
One of the most unique gifts that we have added is embossed or engraved roses. Yes, on live or silk roses our partner can engrave the saying of your choice. What a great way to say "I love you". Or, what about a way to remember your wedding.
The roses are of the highest quality and come in different colors. You need to see this to believe it.
Bonsai Trees
These miniature trees show you an artistry dating back many centuries from Japan. The ability to have these grow in miniature form is beyond me.
Our partner, BBNY, is a family only run business and they have a great selection. With the wide selection their prices are the best I have seen around. You need to see these trees.
Fresh Flowers and Gifts
Fresh from the grower. You can't get these bright, colorful flowers any fresher. Our flower partner gives you rapid service and we have a great selection.
You will find not only fresh flowers at very reasonable prices but floral arrangement, flower plants and other non-floral gifts. You will be surprised at what you see.
Shipping not included
Unfortunately shipping is not included in the price of these new items. Although, I must say, shipping is priced in the low to moderate range.
Our orchids still have free 2day FedEx
Take a look at our site and you will see the pages to get started. Click on them and off you go.
Let me know what you think of these new sections. Click here to let me know.
September Orchid Specials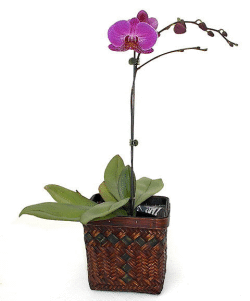 Orchids Plus More will be donating 5% of all sales to the Red Cross from the relief effort for Hurricane Katrina for the month of September.

Striped Phal
Remember Free 2 day FedEx

Priced at $56.95
The striped Phalaenopsis is a Premium Purple Orchid and a favorite among orchid lovers and hobbyists alike because of its beautiful blooms. Striped orchids seem to light up any room. Admirers are mesmerized
r shown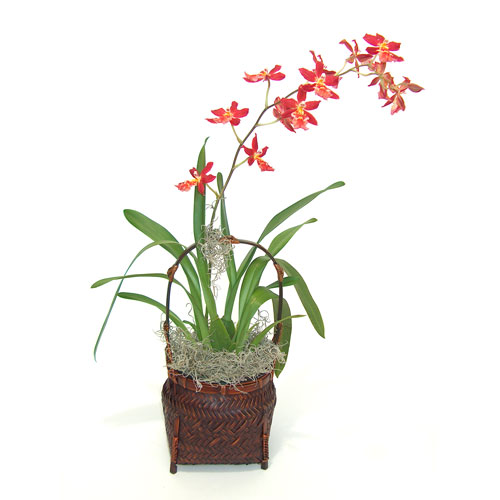 On Sale for $55.95
Free 2 day FedEx

Put a glow on someone's face with an orchid that produces real red flowers! No other gift plant bestows your wishes of love and adoration quite like an orchid plant. Our Burr. Living Fire "Glowing Embers" orchid comes in bud and bloom, nestled in this handsome, Asian style wicker basket. Stands approximately 24 inches tall. Available in bloom year around.
Remember 2 day FedEx

Sale Priced at $56.95 Pretty to look at and easy to care for... yellow oncidiums like this Oncidium Gower Ramsey is the perfect orchid for the beginner. They enjoy bright light so place it in a bright location indoors.
---
Remember We Are Now On RSS

RSS can stand for Real Simple Syndication. It is becoming the "new way" of communication with people and customers. It is a revolutionary new tool that gives you the control.

It is a way for both individuals or businesses to let others know what is going on.

Our RSS is generally updated once a week and usually on Fridays. It is our way to keep you up to date.

All you need is a RSS Reader and one of the most popular is called FeedDemon . There are also others with a few less bells and whistles that are free. Once you have the "reader" all you need to do is to put our RSS address into the reader under new subscription. Our address is; http://www.orchids-plus-more.com/support-files/orchids-rss.xml Just copy and paste this into the reader.
---
Our final part in orchid care part 4 is about the roots of the plant. This is the heart and soul of the plant. If these are not healthy then the whole plant will show the effects.
Loss Of Roots
Orchid care part 4 now turns our attention to the roots. Roots disease is difficult to diagnose. The roots actually loss their function and do not supply the plant with the nutrients it needs.
some of the causes include:
over watering, probably the most common. I know I am at fault for this one with one of my phals.
the next most common cause is old potting material. You will see this occur with orchids bought from grocery stores or home goods stores. They are usually packed in soil which is not a good medium for orchids.
slugs or snails can cause root disease. This orchid care part 4 says you need to treat with metaldehyde.
sometime excessive salt or minerals in your water can cause this as well. If so you need to use distilled water.
Occasionally you will see the whole plant be effected by the infamous "mealy bug".
When this occurs you will note a white cottony mass on the plant or a gray, brown or even black mass underneath the leaves and flower stems.
The treatment includes scrubbing the plant with a soft toothbrush dipped in malathion. You should also spray the greenhouse regularly with malathion. Don't forget to take precautions with spraying, no children or animals and use a face mask.
We are now at the end of our series of orchid diseases with orchid care part 4. I hope that you enjoyed this series. I enjoyed writing them and I also learned from them.
If you would like to have the whole series as one piece. Let me know through our contact form on the web site.