Volume 2 # 3
Content
1. What's New
2. Your March and Easter Specials
3. Care of Your Dendrobium Orchid Plants
4. This Month Picture
--------------------------------------------


If this newsletter has been passed on to you from a friend, I hope that you enjoy it. If you do, I'd appreciate it if you would subscribe
I promise that your email address will only be used to send the newsletter to you. We do not sell or rent any addresses or information about you.
-------------------------------------------

What's New On The Site
First of all you will notice that the "add to cart" on the enlarged view is now working properly. Some of you may have noticed when you will click it the plant added to the cart was different for what you wanted. My fault. There was a coding error that I didn't pick up on right away. It is fixed now.
There are about 10 new and beautiful orchid plants on the site now. You can see them primarily on the Phalaenopsis page and the Cattleya page.  Some of them include Pretty Pink Phal, Selected White Phal (a great Easter Gift by the way) and Blc cattleya Macao among others.
I have also added a few new pages to the content part of the website. From the store it is called "Main Site". These include the the vanilla orchid plant the most flavorful orchid plant. Also, take a look at the Orchid on a Stick - what a beauty.
Bromeliads have been well received and we have added more.


Specials for March and Easter
This year Easter is coming very early, March 27th to be precise. What a great idea to send out to your parents or your significant other a beautiful orchid plant. The Select White Phalaenopsis is a perfect Easter orchid. It is a easy choice to replace the lily. In the cattleya species you can see the beauty of "Suan Putan" or the "Macao".
All of our Specials will include free overnight FedEx delivery. For all other orchids there is a $9 charge for overnight. Since there are limited supplies of these specials I encourage you to order early and we will hold until you need them shipped.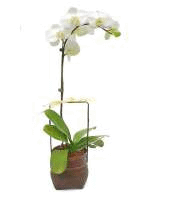 Each are priced at $57.95 including Free Overnight FedEx


Want to order now? Click here and let me know.
---
Tip of the Month
Dendrobiums
This month I am focusing our attention to the care of Dendrobiums. These are one of the most popular of retail orchid plants. They are a true epiphyte or air plant. There pseudopods can gather and hold water very efficiently. Generally there will be a hybrid phalaenopsis and dendrobium, commonly known as Dtps.
Potting
This needs only to be done every two to three years and it should be with a porous, free draining media. This may be a combination of wood chips, small stone and and pieces of styrofoam peanuts. This will allow the draining of water and fertilizer. Dendrobiums seem to grow best when the pot is smaller than the size of the orchid plant.
Lighting
The dendrobium orchids require about 50% sun or bright light. They will do well in an east or west window as well as a shaded south window.
They also do well under 4 - 40 watt fluorescent lights directly over the plant.
Temperature
These plants need a difference in temperature between the night and day. Preferably this difference should be about 10 - 15 degrees. The night temps they like is 60-65 with days between 80 - 90.
Air circulation is needed and is especially when the temps are above 90 degrees.
Water
Like most orchids Dendrobiums need to be kept moist while actively growing. When it is mature, as are most of orchids-plus-more.com plants they should dry between watering.
Dendrobiums thrive when the humidity is about 50 - 60%. Humidity trays are usually needed while the plant is in the home.
Fertilizer
Use a balance fertilizer like Jack's Classic 20-20-20. Use weakly, weekly. That is, use a solution which is between 1/4 to 1/2 the recommended dosage.
For more information on the care of orchids see the American Orchid Society
---
Picture of the Month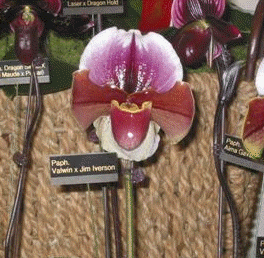 This is a paph hybrid made from a cross between Valwin and Jim Iverson. Isn't the waxy sheen on this paph really pretty?

If you have any pictures you'd like to share please email to me.

Also if you any questions or suggestions for future newsletters please let me know.

Thank for browsing and have a great month
---
---