Should I Repot My Beautiful Valentine's Day Orchid?
by Jina
(Chicago, IL)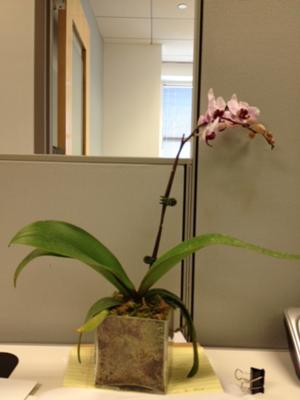 Beautiful Pink Phalaenopsis Valentine's Day Orchid
Hi,

I received a beautiful orchid plant from my boyfriend for Valentine's Day. It came in the mail and one of the flowers was semi-crushed. It came in a glass square vase (see picture) and the directions told me not to water it for two weeks and keep it away from direct sunlight.

I've done that and my plant is doing fine. A new bud has blossomed since I received it.

My concern is that after reading a lot about orchids and Phalaenopsis Orchids specifically (I believe that is what I have), I'm worried that since the vase is solid glass there is no way the plant can drain when i water it.

After two weeks of waiting, I just watered an egg-sized amount of room temperature filtered water. Since my plant is in bloom (4 buds still left to bloom) should i re-pot it or wait until all the flowers fall?

This plant is really special to me and I want to ensure its health and longevity.

I appreciate any advice you can give me.