Older Orchid Was Growing Now All The Leaves Dropped Off!
by Cathy Wurzer
(Minneapolis, MN)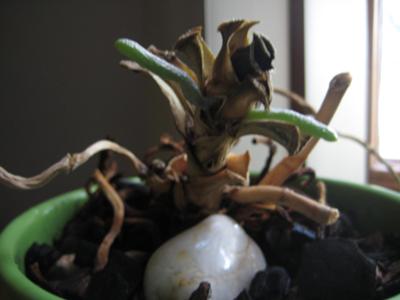 Hello!

I'm just heartbroken.

I've had a lovely orchid for the past 5 years that has been doing just fine. Not much in the way of new leaf growth until this year.

I thought I'd help it along by fertilizing it and I noticed that the older, lower leaves dropped off and the new growth looked just fine (as did the roots...those offshoots that come out of the stalk) but I just noticed that even the new leaves dropped off!!!

I think I killed the plant!

I had it in a sunnier spot but then wondered whether that was too much sun, so I moved it back to where it had been.

Is there any hope for the plant? It still has two small "roots" that are coming out of the stalk about an inch or two from the wood chips!

Many thanks for your advice!

Cathy Wurzer
Minneapolis, Mn.