Orchidaceae Newsletter November 2005
Volume 2 #11
Content
1. Our new RSS/XML address
2. New Orchids On Our Site
3. Our Fantastic Thanksgiving Specials
4. Tip of the Month - What Do Brassia and "Halloween" Spiders Have In Common

--------------------------------------------

If this newsletter has been passed on to you from a friend, I hope that you enjoy it. If you do, I'd appreciate it if you would subscribe
I promise that your email address will only be used to send the newsletter to you.
We do not sell or rent any addresses or information about you.
-------------------------------------------
Greetings from the Northeast.
Well it looked like winter last week. It was snowing here. As much as that first snow is really beautiful it also reminds us of how cold the winter can get. At least today is beautiful - sunny and temps to the high 60's. We are about 3 weeks behind in the fall beauty-fest. The trees do not have the great mix of colors that is normal for New England
Our grower has had their share of problems during the past month. First it was a downfall of their email system. Next it was a worm that got into their site I use to order and get the info to FedEx. That took them several weeks to take care of it. It looks like they are now getting ahead of things as well as revamping the site.
I am sorry again for any inconvenience this has caused. I know there has been some shipping delays. That seems to be bdhind us now. Thanks for hanging in there with us.
The Fall Season
Just a quick word about the your outdoor orchids. As the cooler weather chages in parts of the country be sure that the orchids come indoors when the temp temp gets below 50 degrees.
Cymbidiums can tolerate a lower temp, maybe down to 40 degrees.
Be sure that you continue to water your orchids, even in the cooler weather they will continue to need it. You may be able to cut back on the frequency, from 3 to 2 times a week.
----------------------------------
The response to our newly added items has been gratifying. Thank you.
The overwhelming favorite has been the embossed roses. These are really awesome. The most common phrase being engraved on the fresh rose petals is, "I Love You".
There are many, many phrases which can be embossed on the fresh or silk roses. Did you know you can also put a small picture on the roses as well.
The specials for this month in our "fresh flowers" are really great. See the beuatiful Thanks giving bouquets
---
Our New RSS Address.
We have changed our RSS address to:
http://www.orchids-plus-more.com/orchid-plant.xml

Not sure what RSS is. Read about it at:
http://www.orchids-plus-more.com/rss.html
This short article on "Real Simple Syndication" will tell you all about this new communication technology that is sweeping the industry. It allows you to get up dates regularly and only when you want it. You are in the drivers seat.
---
Our Thanksgiving Specials
We have added at least 10 new orchid plants plus you will see some great examples of what is available with our "embossed roses" and our grower fresh flowers.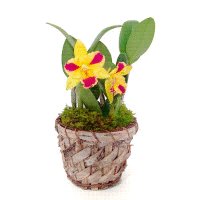 This is a real beauty with the yellow and red petals. It is sure to please anyone recieving this for Thanksgiving. And it will last for years so you will be remembered for a long time.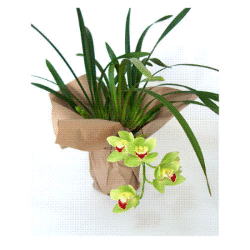 Large flower type cymbidium with lime green petals that contrast beautifully with the red tipped labellum. Short spike encourages displaying orchid without a stake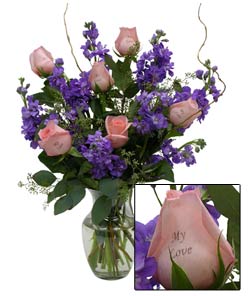 Special Price is For $59.95
Any phrase you would like! How about "Happy Thanksgiving"? Brilliant Roses accented with bright purple Stock and set in Seeded Eucalyptus.

Sorry, shipping is not included.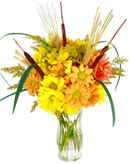 Thanksgiving Special is $29.95



Remind them of those twilight strolls through the fall fields! This beautiful bouquet was created to reflect the soft glow of fall with Bronze and Yellow Chrysanthemums and Solidaster accented with Cattails, Wheat and Bear Grass. Also included are a quality message card, floral preservative and flower care information. Your flowers come elegantly wrapped in a decorative sleeve and are hand packed in an attractive gift box
Shipping is not included
---
Our Halloween Orchid Tip
"The Spider and the Orchid"

What does a spider and an orchid plant have in common? Yes, Halloween is a special day. Brassia orchid plant is a name given to these spider orchids. Indeed, you can see the resemblance to the spider in this picture.

These beautiful orchids are from the Genus, Brassia, the spider orchid. The long and slender petals and septals are like spider legs.

They are named in honor of William Brass, a 19th-century British botanical illustrator, this orchid grows in the wet forests of tropical Central and South America, but it is also comfortable in cultivation.

Many species in the genus Brassia orchid plants are pollinated by parasitic wasps, which normally lay their eggs on spiders. The patterns and structure of Brassia orchids resemble a spider in its web enough to encourage these wasps to lay their eggs in the plants' blossoms and in doing so pollinate them.

The flower spike will provide you with a number of these flowers which do resemble spiders along the spike. Brassias are crossed with Miltonia and Ondontoglossums to produce some very pretty orchid plants. Some have flowers that reach about 10 inches in diameter.

And did I mention they are extremely fragrant as well. They are not hard to grow but do require some specific parameters for their growth. First, spider orchid plants do require either high intensity bright light. This can be diffuse light. They should not have the direct noon-time sunlight. During the day and into their growth and blooming period they like temps between 65 and 75 degrees Fahrenheit. At night the temps for the Brassia orchid plant should be between 55 and 65.

Just after their blooming period the Brassia orchid plant need a rest for several weeks. This means that the temperature should be kept on the lower end of the range, 55 - 60 degrees.

As far as watering, they need to be kept moist but not wet during their growing season. The growing period is during the development of the pseudopods which are flat and when the inflorescence (flower spike). After this period you should water only once a week.

Spider orchid plants do need both humidity and air circulation. The humidity is between 50-70%. This is a little higher than most orchids. For air circulation you can use a small fan, but don't point the fan on the plant.

Now when you remember or see a "Halloween spider you can imagine the beautiful Brassia orchid plant.
---
This newsletter and articles may be reproduced with our permission as long as the authorship and Web site are acknowledged in the article. Bob Roy - http://www.orchids-plus-more.com Copyright © 2005 Orchids Plus More.com and LEB Enterprise