--------------------------------------------


If this newsletter has been passed on to you from a friend, I hope that you enjoy it. If you do, I'd appreciate it if you would subscribe
I promise that your email address will only be used to send the newsletter to you. We do not sell or rent any addresses or information about you.
-------------------------------------------
Your July Orchid Specials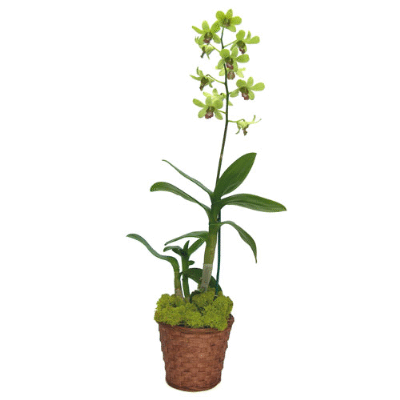 On Sale for $55.95
Remember Free 2 day FedEx

The rich, long lasting texture of the jade dendrobium makes it a great gift idea for any occasion! Magnificent sprays of lime colored blossoms command attention and add a stately accent to any home décor. Imperial in its nature, our Green Dendrobium Orchid is set in a wicker basket and is decorated with living Deer Moss. Orchid stands a majestic 30 inches tall. Sent in bud and bloom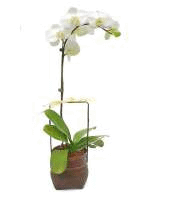 On Sale for $44.95
Free 2 day FedEx

OrchidsPlusMore offer some of the nicest white phalaenopsis orchids grown in Southern California! Our phalaenopsis orchids are tall and hardy. We make sure your orchid has perfect foliage and the buds are puffy and ready to bloom. Our Select White Phalaenopsis will come in this class crossbar basket. This orchid stands over 30 inches tall.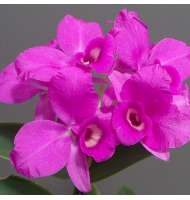 On Sale For $44.95
Remember 2 day FedEx

Beautiful bi-foliate cattleya species that produces bright purple flowers in clusters. Fragrant Due to the season it is sent in bud form
---
What is RSS?
RSS can stand for Real Simple Syndication, Rich Site Summary and there are more. But despite what the "real" name may stand for, it is becoming the "new way" of communication with people and customers. It is a revolutionary new tool that gives you the control.
Replace Email?
It is a way for both individuals or businesses to let others know what is going on or what is happening on an ongoing basis. It gets us further from the reaches of email spam. Spam is becoming so common now that an increasing number of us are finding ways to get around this. Have you seen the many anti-spam software on the market?
RSS Feeds?
RSS feeds is actually the information you get from the RSS site. So, for example, you get the NY Times RSS information. The information from the NY Times is called their RSS feed.
Obtaining RSS feeds is totally in your hands. So, if you want to receive the "orchids-plus-more" RSS feed it will be up to you. All you need to do is add our RSS feed "URL" into your RSS reader.
RSS Reader?
The only technology you will need is a RSS Reader and there are many. I recommend FeedDemon as a very good RSS Reader. With Feed Demon you can read the feeds fast because they are set up just like a newspaper. Once you have the reader and entered the RSS URLs it is up to you when you find a favorite hobby or news item, just click on the news item and off you go to read the article.
For example our RSS URL is: http://www.orchids-plus-more.com/support-files/orchids-rss.xml Remember you need to copy and and paste the URL not click on it.
So RSS is the new technology being embraced by not only individuals but businesses as well. You are able to get all your news like CNN's or NY Times, updates from business and even individuals when you want it. There are now thousands of such feeds available and remember you have all the control - it is up to you to place the URL of the feed into your reader.
Eventually, you will not be receiving those emails that can clog your system and you won't get spammed.
---
Bamboo Orchid Plant
When you think of bamboo you really think of bamboo sticks, don't you?
There is an orchid that grows wild in some of the warmer climates like Hawaii and Southeast Asia called the Bamboo Orchid Plant. This is a very pretty orchid plant that easily grows on the hillsides.
Imagine having a bamboo orchid plants in your backyard that are growing behind your home. What a pretty site that would be.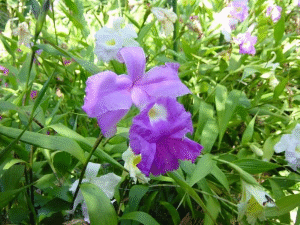 These orchids usually grow to 5-6 feet. The stems are actually the pseudobulbs. A new pseudobulb grows each year.
One of the variety, Sobralia, can grow well in light shade as well. This genus doesn't grow as tall either. It usually tops out at about 4 feet.
Temperature range is quite wide, from a low of 40 degrees to a high of 80+. You don't see the bamboo orchid plant very much in the cooler climates of the Northeast or North Central states. If any they are usually indoor plants or out in the summer only.
My wife has one of these that is still quite small, but this summer she is putting it outside just to see what it will do.
Bamboo orchid plants need to stay moist. Do not allow them to dry out. Humidity is also very good for them as well. So if indoors you should be sure the humidity is about 50%. If not you can use a humidity tray.
Fertilize them about every other week with a weak, diluted solution.
Some people can have flowers on their orchids all year round. We haven't had that luck. And the flowers are fragrant.
If you can get one of the bamboo orchid plant I am sure that you will be able to see it grow. Imagine, growing a five foot orchid!
---
Picture of the Month
Taken by John Benoot, Phal Kaleidascope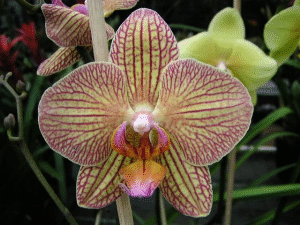 This beauty was taken by John Benoot of the
Moth Orchid Hybrid
'Baldan's Kaleidoscope, Golden Treasure'

This newsletter and articles may be reproduced with our permission as long as the authorship - orchids-plus-more.com - is credited within the article.



Copyright © 2005 Orchids Plus More.com and LEB Enterprise