--------------------------------------------


If this newsletter has been passed on to you from a friend, I hope that you enjoy it. If you do, I'd appreciate it if you would subscribe
I promise that your email address will only be used to send the newsletter to you. We do not sell or rent any addresses or information about you.
-------------------------------------------
Our August Orchid Specials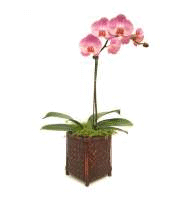 On Sale for $45.95
Phal Pretty Pink
Remember Free 2 day FedEx

Every orchid we send comes with care instructions so even the orchid beginner can care for it like an orchid expert. 1888Orchids.com is proud to offer a large selection of phalaenopsis plants like this pink phalaenopsis orchid in a classic handle basket. Send it to yourself or someone very special. Stands about 24 inches tall.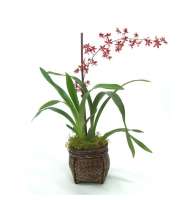 On Sale for $55.95
Free 2 day FedEx

The orchid that smells like chocolate! Our delightfully fragrant Oncidium orchid may be one of the most popular orchids ever produced. Oncidium Sharry Baby "Sweet Fragrance" AM/AOS is the award winning orchid with the mint chocolate fragrance! Imagine the look on their face when they open our gift box and see this orchid which smells like chocolate! Send it as a gift to their office and they will not stop talking about it to their co-workers.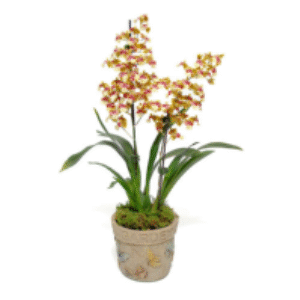 On Sale For $45.95
Remember 2 day FedEx

Our fragrant Mtdm. Pupukea "Sunset" is nestled in a our very own planter that reads, "Welcome to My Garden." They will delight in the beautiful fragrance this orchid produces that smells like wild sage and honey. Place it in a small room and the whole room with fill with its fragrance! Sent in bud and bloom. Stands approximately 14 inches tall.
---
Remember We Are Now On RSS

RSS can stand for Real Simple Syndication. It is becoming the "new way" of communication with people and customers. It is a revolutionary new tool that gives you the control.

It is a way for both individuals or businesses to let others know what is going on.

Our RSS is generally updated once a week and usually on Fridays. It is our way to keep you up to date.

All you need is a RSS Reader and one of the most popular is called FeedDemon . There are also others with a few less bells and whistles that are free. Once you have the "reader" all you need to do is to put our RSS address into the reader under new subscription. Our address is; http://www.orchids-plus-more.com/support-files/orchids-rss.xml Just copy and paste this into the reader.
---
My Hydroponic Update
This month I wanted to give you an update on the 3 orchid plants that are growing hydroponically. Last April I started 2 cattleyas and in June I started a phal. Well I am happy to say that all 3 are doing well with new growth on all.
The 2 cattleyas were actually in pretty sad shape when I decided that hydroponics would either kill them or save them.
I followd the instructions from Creative Hydroponics and removed all the medium. I was not surprised when I found the the root system was diseased. I trimmed off all the dead roots and only had a few that were left. As per the instructions I used the rooting fertilizer solution about twice a week. Instead of using it for 1 month I used it for 2 months. I then switched to blooming fertilizer solution.
Over the past month I have noticed new roots and the beginnings of new spikes (about 3 inches).
The phal initially was rooted with the rooting fertilizer solution for 1 month then switched to blooming. For the first 4 - 5 weeks I used too much of the solutions and found that the leaves and the blooms were not doing well.
I cut back the amount of solution and am looking at healthy looms and now spikes.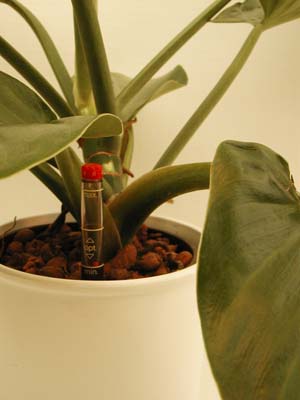 I need to thank the folks at Creative Hydroponicsfor introducing me to this old but important technique. Try it. Use the Hydroponic Kit as pictured above.
Watering with the fertilizer solutions couldn't be easier. It doesn't take much. Once the red point falls below the watering line I use the solution and introduce it slowly, first gently wetting the roots on the suface and then adding more. I add until the red point is just about the lowest watering line. This is working so good now that my watering is down to Tuesdays and Saturdays. And there is no more guess work. Fantastic!

In Orchid Care The Flower
Will Tell You About
Some Diseases