---
Orchidaceae Newsletter

"Your best online source of orchids plus more"
July, 2006

Hi Friends:

All of us at Orchids Plus More hope that you are having a wonderful summer. Here in the Northeast we have experienced the most rainfall ever on record over the months of May and June. We have had more than 22 inches.There is moss growing on moss!

This months article will help you to choose the best orchid for your house or office. You'll have to look at the guidelines I have for you.

Have a wonderful 4th of July! We caution you to drive carefully during these summer months. Don't forget to wear your seatbelts AND stay safe.

Just a reminder that we have free second day FedEx delivery for you on any orchid plant you choose.

This month newsletter includes:
..Our Monthly Specials
..Our Monthly Tip - The Right Orchid for your Home


..Some beautiful orchid pictures

Thanks again, Bob
---
Specials of the Month - to July 31
Here are some stunning Orchids for any special occasion. How about one for your home?
Purple Sabina
This is truly a beauty, sparkling maroon-purple phal and only $54.95 with Free Shipping
This is a real classic with grace, beauty and multiple blooms and an easy grower
Did you know we have access to orchids which bloom nearly all year long. Yes, you read that right. Check them out
Tip of the Month
The Right Orchid For Your Home
So, you want a home orchid. And I want you to succeed. There are many different orchids available but let's look at the environment it will be spending time in. The one way not to succeed is to buy the wrong plant for your home environment.
In a home there are only a certain number of changes that can be made for a plant, any plant. They are:
moving your orchid closer or further from the window
watering a home orchid more or less frequently
varying the room temperature
changing the humidity with a water tray
moving closer or further from other plants
repotting when needed
Let's take a look at how to survey your home for the best orchid that will grow well.
use a light meter to show how much light you have in your home. Also, try it at different times of the day.
do you have pets? Do they tend to get into the plants. If so, your orchid may not do well.
survey your home, where would you put your orchid? Does your home have mostly shade or full sun? Would you be ok with putting your orchid in a bathroom that gets great humidity or in front of a living room window?
How good are you at watering? Do you forget? What about giving fertilizer to your plant?
Now is the time to get the best home orchid that will fit your home environment.
you want plenty of pretty flowers and have bright light, Dendrobium is the plant
if you have little light but want plenty of flowers, try a Phalaenopsis orchid
a Paph is great when there is little light and you want a compact plant
your home is fairly bright light but it does get a bit cold in your house, get an Odonoglossum.
you live in South Florida and get plenty of sun as well as humidity, then a vanda orchid is the one for you. A Brassia also does well in these conditions or in a greenhouse
there is medium light, a miltonia will suit this situation
on oncidium is best suited for fairly bright areas.
These tips will get you the best home orchid for your house. Orchids are surprisingly very easy to care for and are spectacular when in bloom. In fact, in some of the orchid species the blooms will last up to 4 months.
Also, you might find this article interesting. What to watch for when purchasing an orchid.
---
****Advertisement****

Do you want to be a Work At Home Mom or Dad?

**have you been thinking about this for a while?
**additional income for you and your family
**increased satisfaction
**work on YOUR schedule
**be your on boss

Starting your own internet home business doesn't have to just a dream. The internet is still young and there is a lot of room for you
Learn more, read more about it. Work at home mom and read the WAHM Masters Course

---
---
Picture of the Month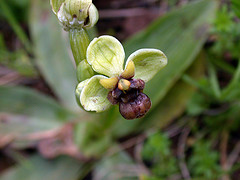 Bumble Bee Phrag Orchid shot by Alastair Rae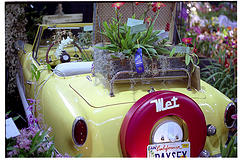 Wouldn't you like to have this in your driveway
Copyright © 2006
Orchids Plus More.com and LEB Enterprise
The articles in this newsletter may be copied but must include our Web site name